PHOTOGRAPHY PHILOSOPHY
Food is our most important asset. Domino's photography is one of the biggest touch points and opportunities to do it justice. Here at Domino's, we don't think our inspired pizza needs the extra things typically done to food at photo shoots to look mouthwatering. Our pizza is good enough to stand on its own.
Craveably Imperfectly Real.

Imperfections create authenticity, add drama, and capture interest – making the imagery more appetizing.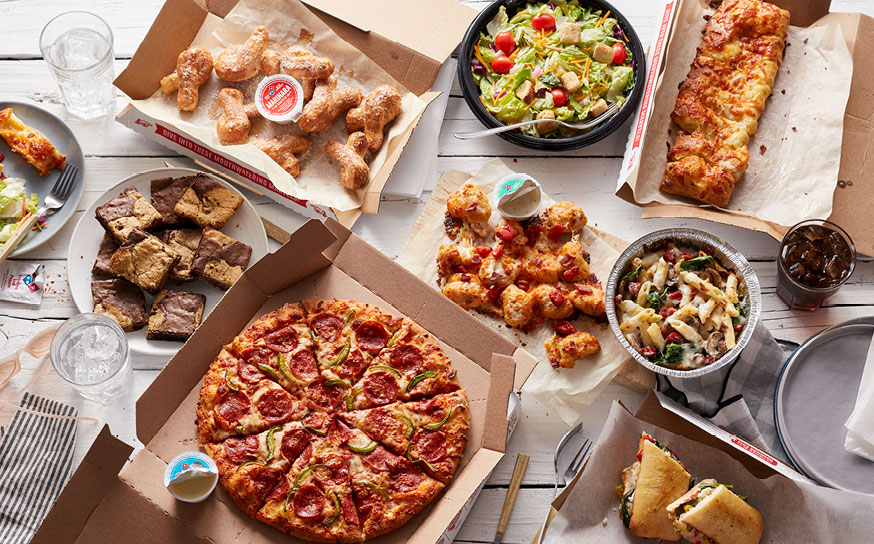 WHAT IS CRAVEABLY, IMPERFECTLY REAL?
This phrase contains three words that help set the guardrails for judging whether an asset is "right" or "wrong" for the brand. A good rule of thumb is to make sure an image checks not just 1 or 2 of the words, but all 3. If a photo seems "imperfectly real" but not "craveable", for instance, it might mean that it is TOO realistic and
imperfect with grease stains, bubbles, leaky sauce – which is hurting the image from being deliciously craveworthy. If a photo is "craveably imperfect" but doesn't feel "real" then it means we might have over-stylized or over art-directed the food to feel inauthentic, staged, and fake.
EXAMPLES OF CRAVEABLY, IMPERFECTLY REALS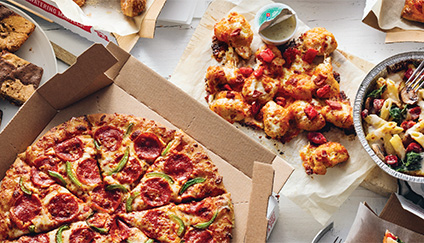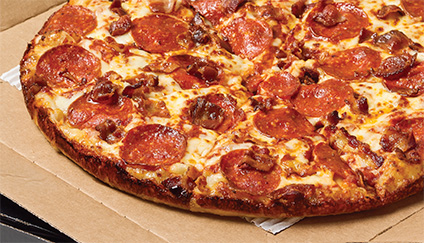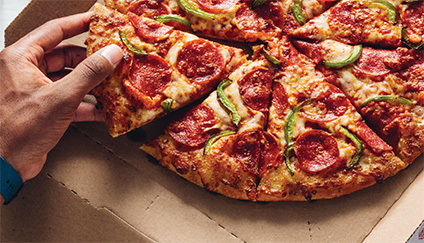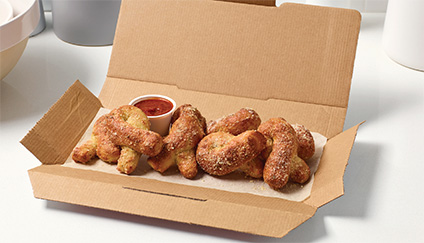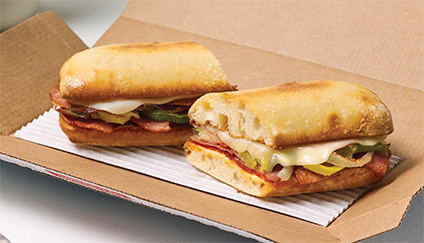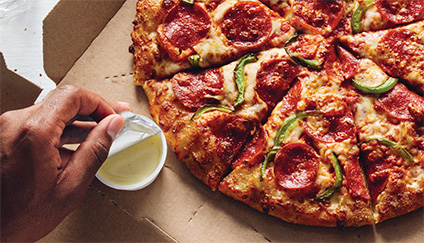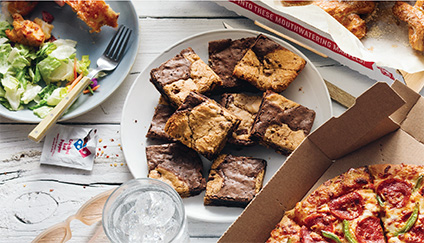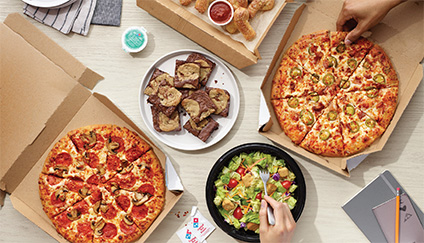 WHAT IT IS
Minimal product styling, all made with real ingredients and no food styling stunts
Color variations, light topping imperfections, and crispy edges all make the product more natural and authentic
Photographic settings that are honest, relatable and real
Products in boxes, or plated like they would be in real life
Adding lifestyle/hands/shadows to imagery allows the photography to tell more of a story, allowing the customer to put themselves into the shot
WHAT IT'S NOT
Heavy-handed product styling with inedible tricks/food styling "hacks"
Messy or sloppy (reduce grease spots to feel real to where pizza would touch the box, but not gross)
Overstyled tables, high-end tablewear with perfect, staged arrangements and lighting
Unbelieveably perfect product or packaging
Void of humanity. There is no pizza with a pizza-eater
FOOD STYLING PHILOSOPHYY
All Domino's food styling will consider the new set principles for food photography. A great food stylist manufactures a moment of imperfection to feel authentic and beautiful.
They help ingredients to feel fresh, bright, full of energy and personality, and ultimately exemplify great quality.
In an effort to maintain authenticity, our practices remain that our food should still be edible at the end of a shoot. Styling consists of small embellishments to real ingredients.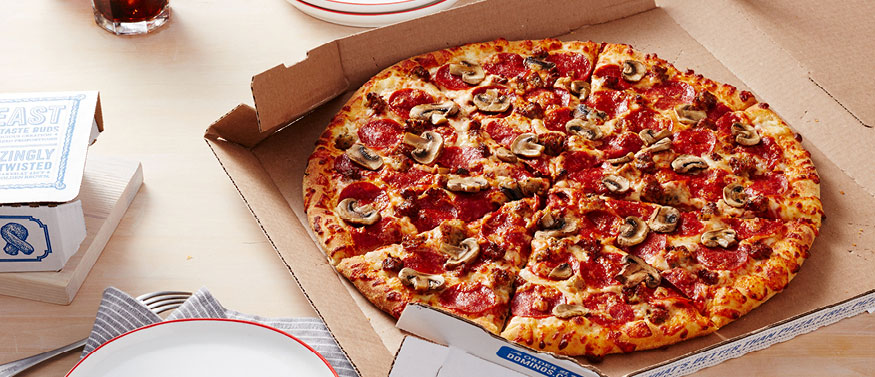 PHOTOGRAPHY SETTINGS GUIDELINES
The setting in each photo should feel authentic and real. Places you would naturally see Domino's pizza, such as backyards, home kitchens, parks, and Domino's kitchens.
Only approved images from the Domino's library should be used on all digital and print mediums.
Places where Domino's is enjoyed are great locations or backgrounds for photo shoots.
HOME SETTING (KITCHEN, LIVING ROOM, ETC)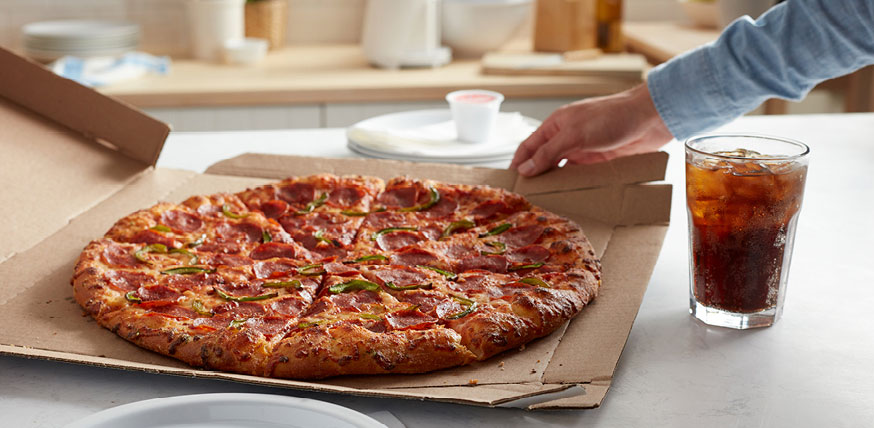 PROPS FOR SETTINGS AND BACKGROUNDS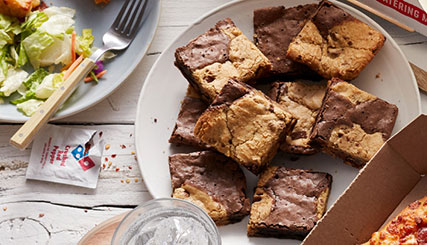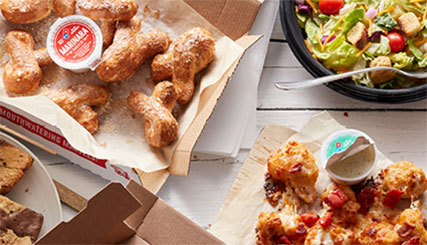 WARDROBES FOR SETTINGS & BACKGROUNDS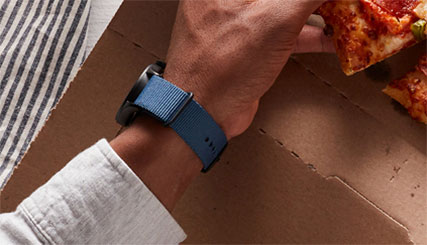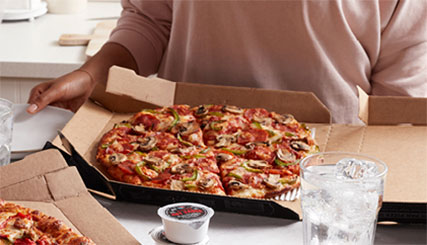 PHOTOGRAPHY BEST PRACTICES
Below are a few best practices for Domino's food photography.

BLURRING BACKGROUNDS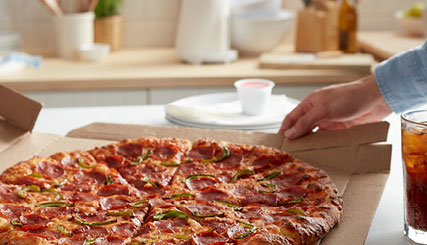 PRODUCT IN BOXES VS. NO BOXES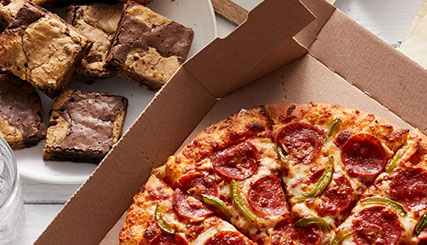 CROPPING OF IMAGES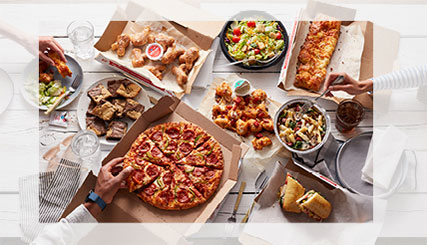 HANDS VS. NO HANDS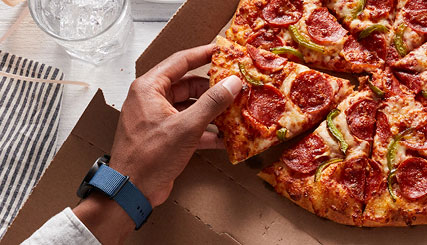 GOOD GREASE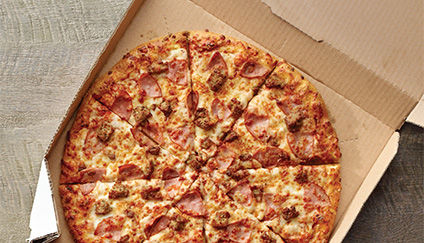 BAD GREASE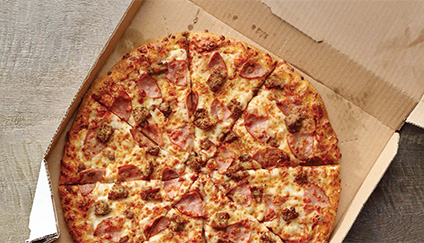 PHOTOGRAPHY GUIDELINES
When using imagery of food in any branded material, use only Domino's food photography
Get approved Domino's Food Photography.
FOOD PHOTOGRAPHY KIT:
APPROVED PHOTOGRAPH LIBRARY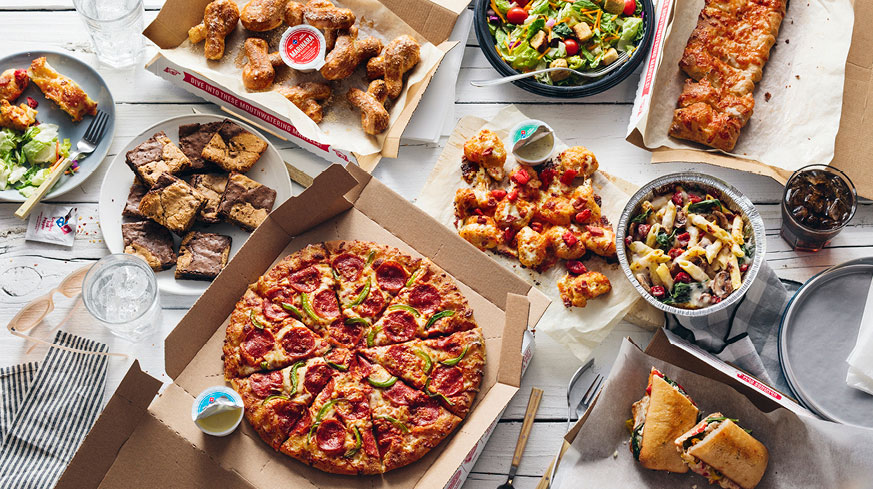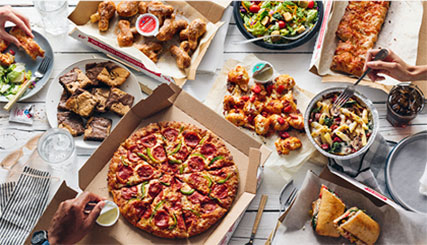 WITH HANDS VER. 1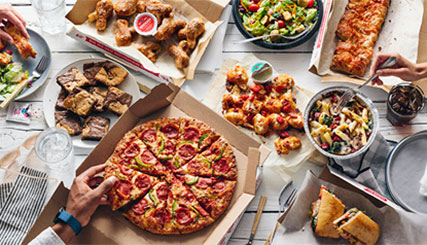 WITH HANDS VER. 2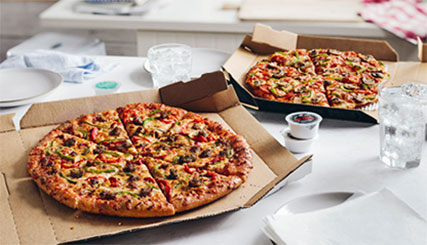 NO HANDS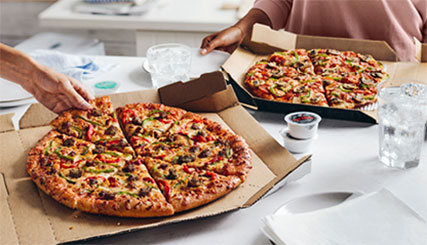 WITH HANDS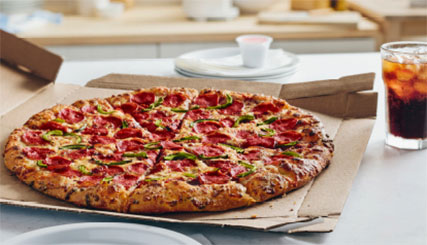 NO HANDS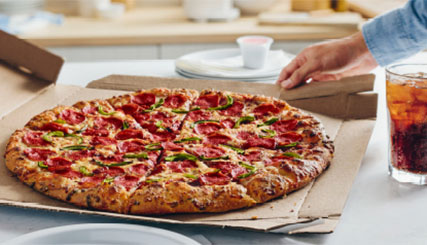 WITH HANDS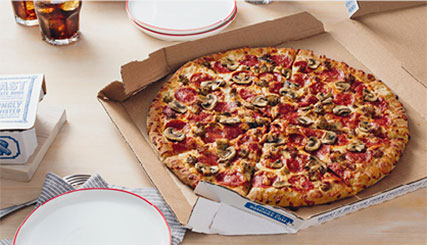 NO HANDS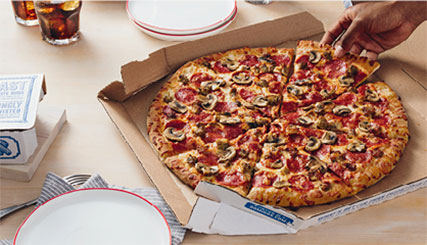 WITH HANDS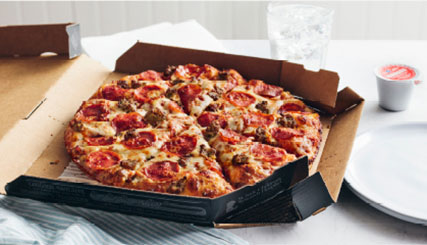 NO HANDS
USER-GENERATED CONTENT (UGC)
Below are guidelines in selecting which user-generated image is best for Domino's social channels and digital materials.
UGC DO'SUGC DO'S
Pizza should be the hero of the shot. Cardboard should be folded behind or angled in a way that it does not take up the majority of the frame.
Rim (1 inch, pizza should be perfectly round)
Bake (no bubbles bigger than the size of a golf ball, light brown in color)
Topping Placement (no toppings should be center loaded, toppings should be evenly placed throughout the pizza)
Portion (each bite should have the topping on it, should not be overtopped or undertopped)
Size (pizza should not look small or squeezed into the box, if we are promoting a Large pizza the pizza in the photo needs to be a Large)
Crust (make sure the garlic oil covers the entire crust so it does not look dry)
Pizza should always be cut, there should be no visible "gel layer" (whiteness on the pizzas) or large holes in the crust.
DO EXAMPLES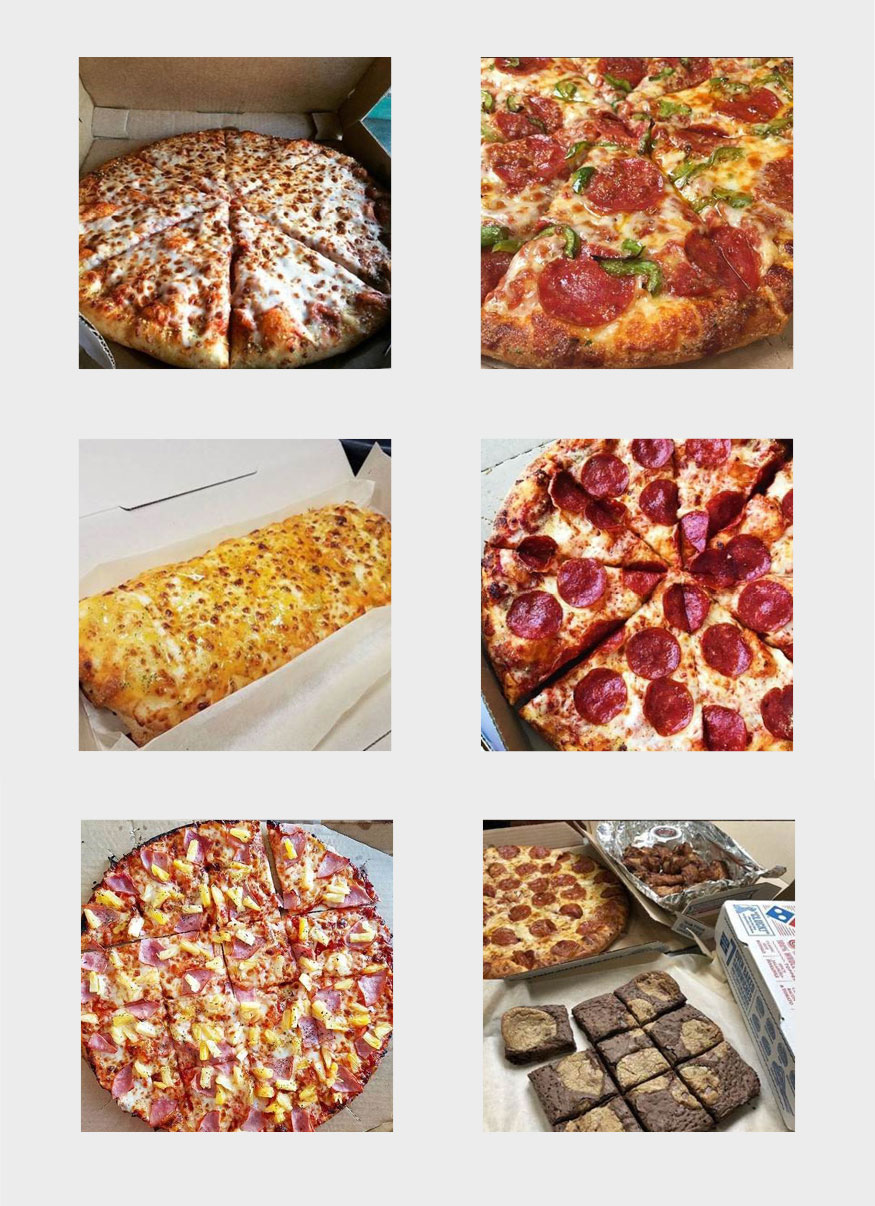 UGC DO NOT'S
Pizza should not look dry or old. Do not use if the image is blurry, messy, has too many bubbles, or has poor lighting.
Do not use if the image has poor lighting
Do not use if the image is too small and blurry
Do not use if the pizza in the image is too messy and sloppy
Do not use if there are too many bubbles on the pizza
Do not use if the image is too zoomed in
Do not use if the toppings are randomly placed
Do not use if there is too much grease on the packaging.
DO NOT EXAMPLES